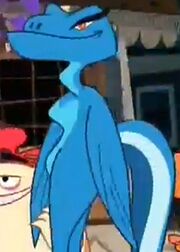 Flying Flog is a beautiful female mutant mixed with a frog, a flying fish, a horse and a skunk tail. She has appeared throughout the series as a background character.
In "Stuck Together", she freaked out when she saw Entrée using Peri as his hair to impress her.
She also appeared in "Juice",
She seems to like the aardeater in some episodes like "Sugar Low" where they were seen walking with him and smiling at each other.