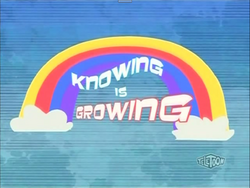 The Knowing is Growing series are a couple of shorts where Peri and Entrée give bizarre and stupid lessons to the viewers. There are 4 shorts available.
Shorts
[
]
Antelope - In this short, Fuzzy Snuggums is found by Peri and Entrée, and confronted on the fact that he was shoving antelopes up his nose. Peri then approches the screen and tells the viewer not to shove antelopes up your nose, while shoving an antelope up Entrée's nose. The short ends with a shot of Entrée dazed, with an antelope lodged directly into his nose. This short is originally paired up with No Play For Princess and Cleaning Up as a C plot.
Gravy is not a Vegetable - In this short, the message is about people confusing gravy with vegetables. Peri and Entrée go on about reasons why gravy is quite obviously not a vegetable. Before the short ends, Entrée proclaims that gravy is a fruit.
Pet Samurai - In this short, Peri and Entrée tell us why NOT to get a samurai as a pet. In the end they suggest to get a ninja "who makes good cookies".
Trivia
[
]