Pistachio

Species:

Bat, Puppy

Best Friend:

First Appearance:

Portrayer:

Unknown

Likes:

Peri

, licking people, fetch

Dislikes:

When people say he can't see well,

Entree

Other Names:

Buppy

Occupation:

Pet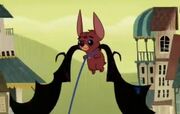 Pistachio is spliced with a brown bat and some kind of puppy, making him called a Buppy. He belongs to Peri. Pistachio is medium brown with a light brown muzzle and big black bat wings. He has a stub tail and small arms and legs, with big pointed ears. He wears a blue collar with silver tags, and a leash. Pistachio can't see very well, but he has an excellent sense of hearing. Whenever someone mentions the fact that he can't see well, he screeches in a very loud scary way. He seems to enjoy licking people, especially Patricia, like a dog does. Pistachio only appears in one episode, "Compu-Peri", but other Buppies have been seen in other episodes. Pistachio gets lost playing fetch with Peri, and later shows the Wunny Sharbit burping up his leash.