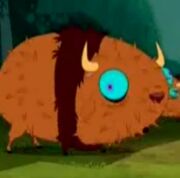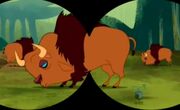 Puffalo is a mutant that resembled an ordinary bison, but can inflate like a puffer fish.
In the short episode "What was the Doctor thinking?", Peri and Entrée observed a herd of them. Entrée honked the golf cart's horn, causing the whole herd to inflate. One then rolled over the duo.
The short they appeared in was after the episode "Bite, Shuffle and Moan".