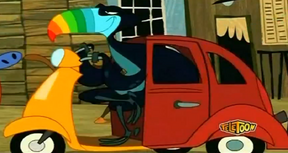 The Toucanguin is a mutant resembling an Emperor penguin with a toucan's legs and head. He appeared in the series as a background character.
Trivia
[
]
He is very rarely seen in the series, but can been spotted for a brief moment in the intro.
When he is seen in the series, he is mostly driving his Scootercar.
The template for his head has been used for the online Spliced game on Teletoon.com.